Should I Buy a Mitsubishi Mirage?
There is nothing like the feel of the road under your tires or the smell of a brand-new automobile. When you're shopping for a new vehicle, you're in a magical place where those two worlds collide. While test-driving cars, make sure to save some drive time for the Mitsubishi Mirage!
Mitsubishi Mirage Basics
Are you looking for an affordable car with the tech and fuel efficiency to take you anywhere? Well, the Mirage might be exactly the vehicle you've been searching for. Not only does it come with a range of tech options, including an integrated touchscreen and is ready for your Bluetooth devices, Edmunds' ranked the 2020 Mirage among the Best Gas Mileage Cars.
Car and Driver was also impressed with the fuel efficiency, as well as the continuously variable transmission (CVT). A CVT gives small cars a lot more oomph, improving acceleration even in cars with low horsepower.
"According to the EPA, the 2020 Mitsubishi Mirage achieves fuel economy of 36 mpg city and 43 mpg highway with the optional CVT," Car and Driver reports. "These numbers are extremely impressive, and they make the Mirage a more fuel-efficient choice than the Chevy Spark."
Who Should Buy a Mirage?
The Mitsubishi Mirage is an affordable entry-level car with a lot of features available, making it a good choice for a lot of people. Trim lines range in price from $13,995 to $17,295, putting even the highest end Mirage well within many household budgets.
Families with children should take note of this one. The car can seat five, with good head and shoulder room. The Mirage also features two complete sets of LATCH connectors in the back seat, as well as an upper tether for the middle seat, giving parents an easier and faster way to put in and take out child car seats.
Combine the young family-friendly configuration with 17.1 cubic foot of space behind the seats in the standard Mirage (12.6 cubic feet of trunk space in the Mirage G4) and you have a vehicle that's going places – with your kids. And you'll feel pretty good about that with the 4-star safety rating from NHTSA!
Mirage Trim Lines
Mitsubishi has a Mirage for everyone, with four different trim lines that can be further customized. You can choose between these Mirage varieties:
ES – The Mirage ES starts at $13,995 and features extras like a rearview camera, automatic climate control and remote keyless entry. A five-speed manual transmissions and a seven-inch touch screen are also standard. In addition, even this inexpensive Mirage can be upgraded to a CVT for just $1,200.
LE – Starting at just $16,195, the LE has a CVT standard. It also features heated front seats, Apple CarPlay, Android Audio and alloy wheels. The LE has a touchscreen like the ES, but it's a tiny bit smaller at 6.5 inches.
SE – For a base price of $16,745, you may think you've literally seen a mirage. The Mirage SE includes all the features of the ES, plus a leather-wrapped steering wheel, push-button start, and proximity keyless entry. The sedan version of this car starts at $17,745.
GT – This is the only Mirage model available exclusively as a hatchback and the sporty little number comes in at $17,295. It's based on the same base features package as the SE, plus alloy wheels, HID headlamps and heated front seats.
There's a Mirage for every lifestyle, making it easier than ever to buy a new car that will give you years of reliable service, safe driving, and a whole lot of fun!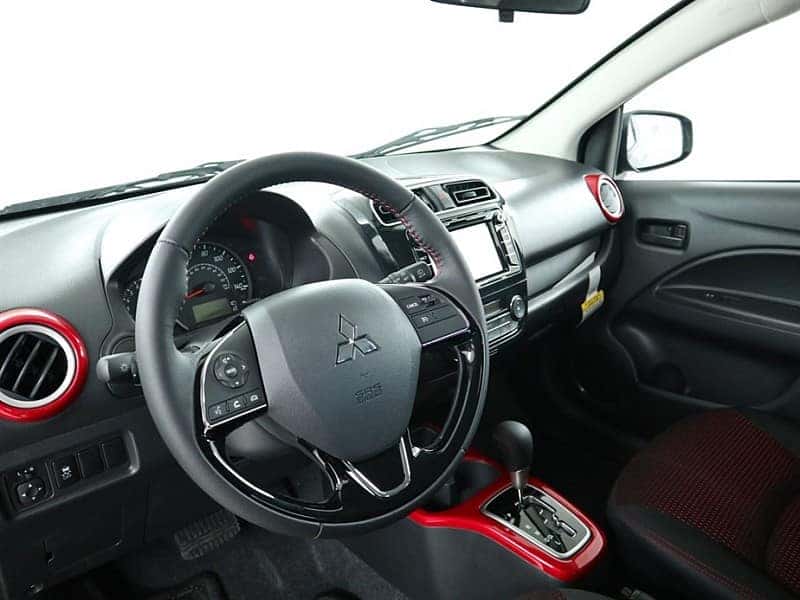 Buying a Mirage from Lawrence Mitsubishi
Although Mitsubishi cars tend to be very reliable, it never hurts to have more coverage. That's why every car that leaves Lawrence Mitsubishi comes complete with a True Lifetime Warranty. You're not just seeing things! This warranty will cover your vehicle as long as you own it, including the powertrain.
You don't need to service your car at Lawrence Mitsubishi for your lifetime warranty to work – it's good with any Mitsubishi dealer across the US and Canada. If you prefer to use an ASE certified mechanic not affiliated with Mitsubishi, many are also covered under the plan.
The catch? You can only get this warranty at Lawrence Mitsubishi and only at the time of purchase. It's totally free, giving you just one more reason to love your new Mirage!