Mitsubishi Introduces 2023 Eclipse Cross
If you're looking for a car that's compact and affordable, but has the power and control of an SUV,
Mitsubishi's Eclipse Cross is a solid choice. The modern compact SUV is perfect for driving around town
and navigating tricky driving conditions.
Lawrence Mitsubishi is ready to help you find your perfect Eclipse Cross, so come check out our
inventory!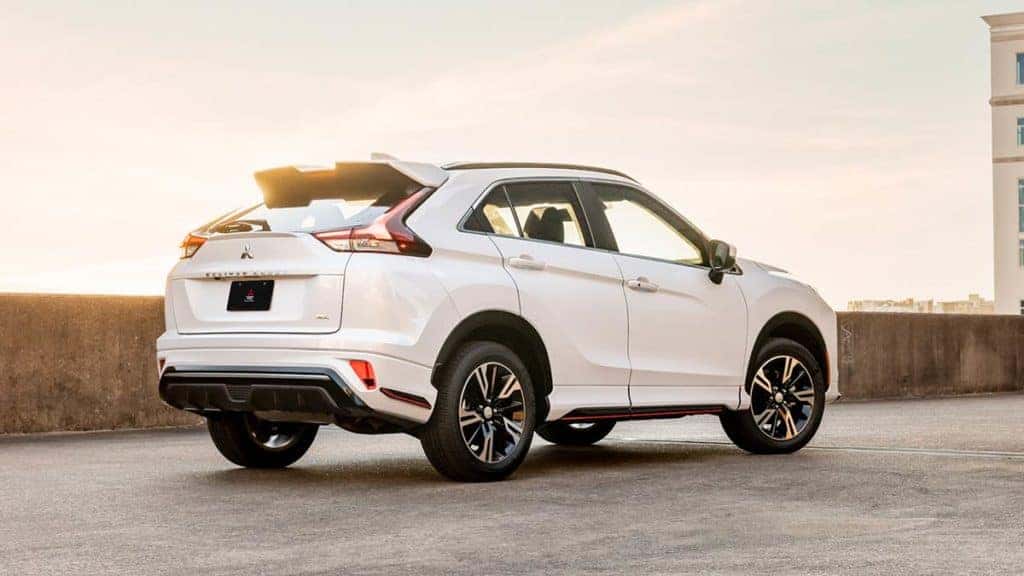 What's new for the 2023 Eclipse Cross?
The 2023 Mitsubishi Eclipse Cross has a sportier look with a new shield design and reworked grille. The
rear of the car has also been redesigned with a hexagonal shape and an extra five inches when
compared to previous models. SE, SEL, and LE trims now include a new 18-inch alloy wheel design. A
panoramic sunroof is available for extra style and convenience.
The 2023 model has improved handling and more standard safety features. Automatic high beams are
now standard on some trims, and higher-level trims feature lane change assist and blind-spot warnings.
One of the biggest changes from previous years is the inclusion of Mitsubishi's Super All-Wheel Control
(S-AWC) system as standard on all trims. It was previously only offered as a $1,600 add-on.
What is Super All-Wheel Control?
Mitsubishi takes a different approach to all-wheel drive than most other car manufacturers. The S-AWC
system is powered by twin motors that can function independently in the front and the rear of the car.
The driving force is distributed among the tires, and the brake activated Active Yaw Control (AYC)
manages the driving force between the left and right sides of the vehicle. Braking force can be applied to
each individual tire as needed. The technology works to balance the power to the wheels during
acceleration, cornering, and braking, while making each movement feel seamless and comfortable for
the driver.
The S-AWC technology has been refined with development on Mitsubishi's racing cars, with rigorous
testing in various weather conditions and on various road surfaces. These systems also work in
conjunction with Mitsubishi's Anti-lock Braking System (ABS) and the Active Stability Control system
(ASC) for safe handling in every condition, even in the worst weather.
2023 Eclipse Cross Drive Modes
The Eclipse Cross also has a variety of drive modes available, to maintain the most control in every road
condition. You can choose from Normal, Tarmac, Gravel, Snow, Mud, Eco, and Power. You can choose
the mode that best reflects your preferences and the current road conditions. Your vehicle is ready to
respond to your needs with just the touch of a button.
Normal mode is well-balanced for most conditions and works with a variety of driving styles. This mode balances fuel efficiency with driving performance and capability.
Tarmac mode is for dry paved roads. It helps the car to rapidly accelerate and easily handles tight corners on mountains and winding roads.
Gravel mode works well for unpaved or wet roads. It provides additional traction and stability control in slippery conditions when the tires might have a hard time getting a grip.
Snow mode gives extra traction in snow or icy conditions and helps to prevent the car from slipping or spinning out.
Mud mode helps with muddy roads and deep snow. It controls slipping and might also give the tires just the right amount of power if you find yourself stuck in deep snow or mud.
Eco mode will improve the efficiency of the gasoline engine to save you money on gas and cut down on emissions.
Power mode will maximize acceleration performance if you need some extra help getting the vehicle up to speed. It's great for passing on the highway, merging with fast traffic, or getting up a steep hill quickly.
Price and Availability
The 2023 Eclipse Cross starts at $25,795 MSRP for the ES trim, and up to $31,395 MSRP for the SEL
Touring trim. The Eclipse Cross has six trim options altogether, so you can find your perfect balance of
convenience and affordability.
Mitsubishi got a head start on its competitors by releasing its 2023 Eclipse Cross early. The vehicles will
soon be available for a test drive at Lawrence Mitsubishi. Get ready to discover all-wheel control like
you've never experienced before.