Mitsubishi 2022 SUV Models
SUVs are a popular choice for families in today's busy lifestyle. It's hard to beat an SUV for its capability, flexibility, and spacious interior. Lawrence Mitsubishi has plenty of great SUV choices that are both powerful and affordable. You can be one of the first to get the newest 2022 Mitsubishi SUVs at great prices.
Lawrence Mitsubishi is so confident in the quality of our cars that we offer a 10-year/100,000-mile Powertrain Limited Warranty on new vehicles, along with 5 years of unlimited Roadside Assistance. You can expect reliability from your Mitsubishi SUV for years to come.
Check out Mitsubishi's SUV lineup for 2022, with the newest technology and safety features.
Eclipse Cross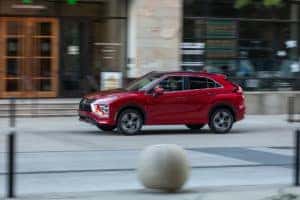 The Mitsubishi Eclipse Cross is a great choice if you'd like to combine the gas efficiency of a smaller car with the power and control of an SUV. All-wheel drive is available if you need to do some off-roading or just want to have that extra security and control in bad weather or road conditions.
Cutting-edge safety technologies are standard for the Eclipse Cross, such as Forward Collision Mitigation with Pedestrian Detection, Lane Departure Warnings, and Automatic High Beam.  In the National Highway Traffic Safety Administration (NHTSA)'s most recent round of crash testing, the 2022 Eclipse Cross received a 5-Star Overall Safety rating, the highest-possible overall score.
For a smaller SUV, Eclipse Cross has surprising towing power, with a capacity of up to 1,500 lbs. 
2022 Eclipse Cross models are available starting at $19,166 for the ES 2WD trim.
Outlander
Mitsubishi Outlander is the largest available SUV, with 7 seats and plenty of cargo space. Front-wheel drive is standard across all trims, with Mitsubishi's Super All-Wheel Control (S-AWC) four-wheel-drive system as an option at every trim level for only $1,800.
Outlander has some impressive safety features, like 360-degree cameras, blind-spot monitoring, and forward collision mitigation. New features for 2022 models include adaptive cruise control and lane departure prevention. Active Blind Spot Assist and Rear Automatic Emergency Braking greatly reduce the chances of accidental collisions, allowing you to drive with more confidence and peace of mind. 
Outlander has a standard towing capacity of 2,000lb, so this is the vehicle you want if you do a lot of outdoor activities or camping.
Mitsubishi Outlander starts at $26,033.
Outlander Sport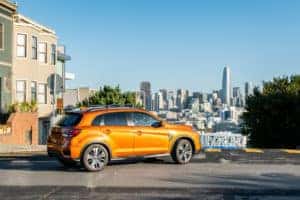 The Outlander Sport has a lot in common with the larger Outlander model, but you can take advantage of its fuel efficiency and maneuverability. It features five seats instead of seven but still has plenty of cargo room for whatever you're likely to want to haul. Outlander Sport has the power of a larger car but gets a combined 27 MPG. If you love the Outlander but don't need to seat a lot of passengers, you can save money on gas and the purchase price. Prices for 2022 have yet to be released, but the 2021 model starts at $20,995. This might be your best deal if you're looking for a Mitsubishi SUV at the lowest cost.
Look for this vehicle to be available soon!
Outlander PHEV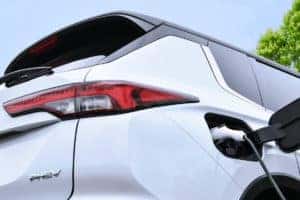 There's a lot of interest in electric vehicles these days, and Mitsubishi is happy to provide one of the best. The Outlander PHEV has been one of the world's best-selling plug-in hybrid models since December 2018. It was the winner of the Motor Trend's 2021 IntelliChoice Smart Choice Award for having overall lower-than-average maintenance costs. It's equipped with both a regular charging socket and the quick-charging CHAdeMO. Rapid charging gives up to an 80% charge in approximately 25 minutes, getting you back on the road faster.
Three automatic driving modes and three driver-activated modes help you find the perfect balance of performance, fuel efficiency, and battery use for every driving situation. In EV Mode, the Outlander PHEV is powered 100% by twin electric motors, with the energy provided exclusively from the vehicle's lithium-ion battery pack. You can feel good about this option for zero-emission driving.
Starting at $29,223, the Outlander PHEV is one of the most affordable choices for an electric vehicle, as well as a tax rebate for being environmentally friendly could save you even more money. Don't forget all the savings from buying less gas!
Come visit Lawrence Mitsubishi to find the perfect SUV for your needs.  We'll be ready to help you take a test drive!