Is a Mitsubishi Hybrid Right for You?
Is a Mitsubishi Hybrid Right for You?
Did you know that the average American spends more than thirty hours in a car every month? That makes selecting the right vehicle a decision that new car buyers should not take lightly. And for environmentally-conscious car buyers, correctly picking is even more critical.
Does Mitsubishi Offer a Hybrid?
With the average gasoline price hovering around $2.75 per gallon, you might wonder what sort of vehicle can stand up to your daily commute without costing a fortune at the pump. The answer may surprise you. It's Mitsubishi, the automaker that's become known for its line of hybrid cars, which use less fuel than standard gas-powered models.
Whether you're just starting the search for a new car or looking to upgrade, you must carefully consider your buying options. We'll explain why Mitsubishi hybrid cars might be the right choice for you. But, first, let's examine what exactly makes them unique.
What's the Difference Between PHEV and Hybrid Vehicles?
When researching new fuel-efficient, alternative energy Mitsubishi vehicles, it's essential to understand their similarities and their differences.
A plug-in hybrid vehicle (PHEV) runs on both gasoline and electricity. PHEV vehicles can travel longer distances solely on electricity before needing to recharge. A regular electric vehicle (EV) runs exclusively on electricity, so these vehicles require a reliable electric source to power up for the day's travels.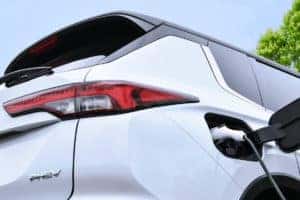 Which Mitsubishi's Are Hybrids?
Mitsubishi has long been a leader in developing emissions-reducing technologies, electric cars, and hybrid vehicles that protect and maintain the environment. Mitsubishi, in recent years, has emphasized its' Plug-in Hybrid Electric Vehicle technology – going beyond what was thought possible with hybrids.
For the model year 2022, Mitsubishi offers its Outlander PHEV. The Outlander PHEV brings power, spaciousness, and safety together to create a flexible, eco-friendly SUV. The NHTSA rated the Outlander with an NCAP Overall Vehicle Score of 5 stars.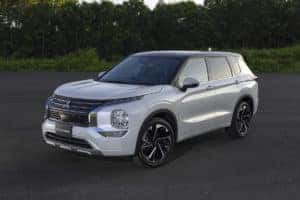 FAQ's About Mitsubishi Outlander PHEV Vehicles
It's no surprise that people have questions about switching from a gas-powered car to a hybrid or EV vehicle. Here, we'll explore a number of the most common questions about the Mitsubishi Outlander PHEV.
Q: Are Hybrids and EV's Safe?
A: Yes! These vehicles have been widely tested and found to be as much as ten times safer than their non-hybrid counterparts.
Q: How Does It Compare to a Standard Car?
A: The operating cost for a hybrid is about half that of a gas engine. In some markets, electricity providers offer discounts and incentives on eco-friendly vehicles.
Q: Where and How to Charge the Outlander PHEV?
A: You can charge Outlander PHEV at home using a standard 120V household outlet for Level 1 charging or a professionally installed 240V charging station for Level 2 charging. 
If on the road, the Outlander PHEV is compatible with 240V public charging stations for Level 2 charging or at any DC Fast Charging station.
Please note, the Outlander PHEV is only compatible with charging stations for DC Fast Charge.
Q: How Long Does the Vehicle Need to Get Fully Charged?
A: The length of time it takes to charge the battery on how much charge the battery already holds. It is, nevertheless, straightforward and quick to charge. For example, charging via a standard 120V outlet takes less than 8 hours, while charging it with a dedicated Level 2 charger takes less than 4 hours. In addition, you can get up to 80% capacity in just 25 minutes using a DC Fast Charging Station.
Q: Does the Outlander PHEV Need Gas?
A: Yes, it does. The vehicle needs gas to drive at sustained higher speeds and power the car when the energy from the rechargeable 12kWh main drive battery runs too low or gets depleted.
Q: How Often Does the Battery Need Replacement?
A: Batteries in electric or hybrid vehicles should last for the vehicle's life. However, battery capacity can decline with time due to poor charging and storage. Mitsubishi provides a 10-year/100,000-mile limited warranty in its Main Drive Lithium-ion battery.
Q: How Many People Does the Outlander PHEV Seat?
A: The Outlander PHEV has room for up to five people and plenty of storage for gear and belongings.
Q: What is the Starting MSRP on the Mitsubishi Outlander PHEV?
A: The Mitsubishi Outlander PHEV is available in three models. They are the 2.4 SEL, the 2.4 LE, and the 2.4 GT. Beginning MSRP for each model is $36,995, $36,695, and $42,695, respectively.
Q: Can the Outlander PHEV Tow?
A: Yes. The Outlander can safely tow up to 1,500 pounds.
Q: How Much Cargo Capacity Does the Outlander PHEV Have?
A: The Outlander PHEV offers up to 66.6 cubic feet of cargo capacity, and the rear seats may be folded down to make space for any large items.
Search for your New Hybrid Vehicle at Lawrence Mitsubishi Today
Now that you know all about the Mitsubishi Outlander PHEV and what makes this innovative vehicle fun, unique, and eco-friendly, it's time to take a look at one in person. So, search for your Mitsubishi Hybrid Vehicle at Lawrence Mitsubishi today!