First Responders Thank You
Free Car Cleaning – First Responders
Lawrence Kia wants to thank all the first responders during the COVID-19 pandemic. We're using Sani-Quat by Pilot Chemical to sanitize all first responders vehicles FREE OF CHARGE. We're cleaning first responders cars with the same cleaner that Delta Airlines is using the disinfect their planes. These cleaners are EPA approved for use against Coronavirus that causes COVID-19. We've researched how dirty the inside of your vehicle really is and this article will give you all the details.
During this time, we have taken great steps to protect our customers and staff from the Coronavirus. Your protection is our priority, learn more.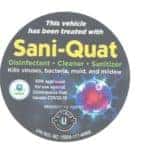 In today's environment a pandemic like COVID-19 is unprecedented. With the daily numbers going up each day, the need of safety for our healthcare workers and first responders has increased to extraordinary levels. Pre COVID-19, healthcare workers would care for one or two critically ill patients, now a nurse and/or doctor sees 10-20 patients needing ICU level of care.
With front line workers savings lives and heading to work day in and day out, we are hear as well to help ease their minds with car disinfecting.
Medical professionals, police officers, firefighters and paramedics thank you from the bottom of our hearts.
Thank you to all of the first responders in Lawrence & the Kansas City Metro!!!