2020 Mitsubishi Outlander Wins KBB 5-Year Cost to Own Award
Award Winning 2020 Mitsubishi Outlander
Hooray! The 2020 Mitsubishi Outlander has won the Kelley Blue Book 5-Year Cost To Own Award in the 3-row, mid-size SUV category. When I first read this press release, I didn't know what the award meant or that this was even actually something that was being measured.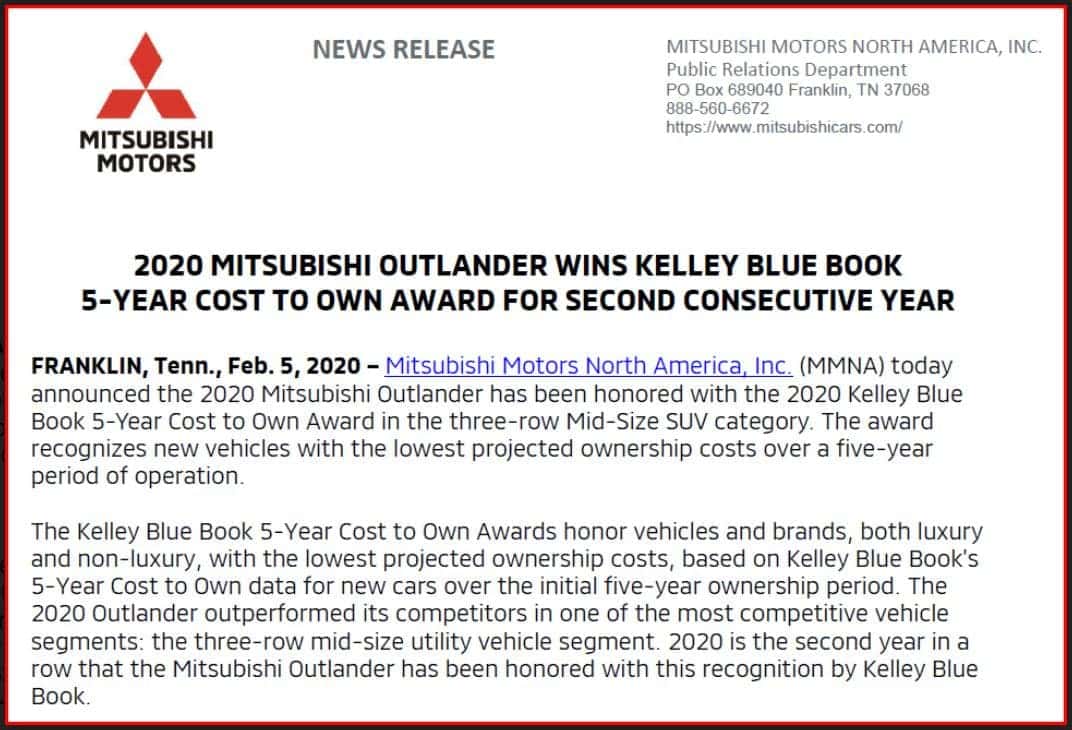 I learned that it's actually a fairly prestigious award – based upon a detailed analysis of purchase price, mileage, maintenance costs and operating cost, and more over a 5-year period. So to have won it 2 years in a row is significant.
Mid-sized SUVs are often the perfect solution for families looking for both economy and seating/cargo space. The Outlander delivers both, with seating for 7 passengers and highway mileage of 30 mpg. But it brings a lot more to the table than that.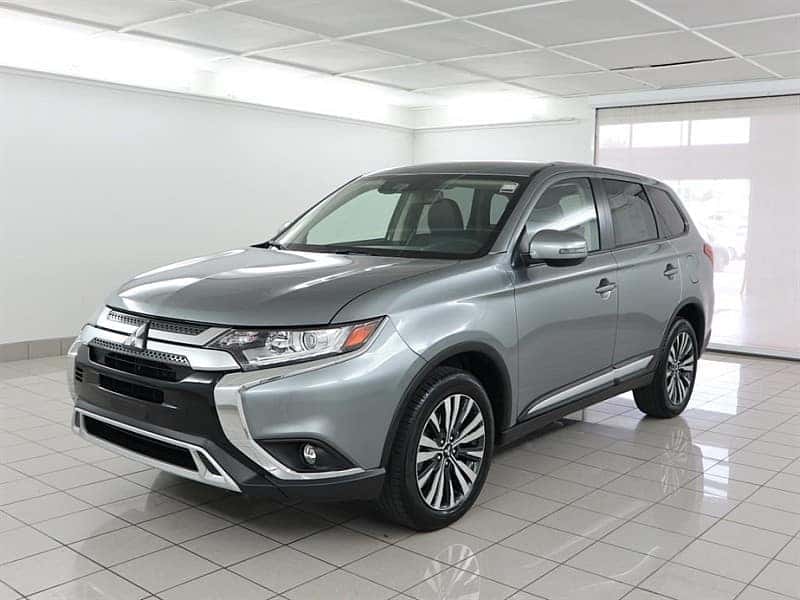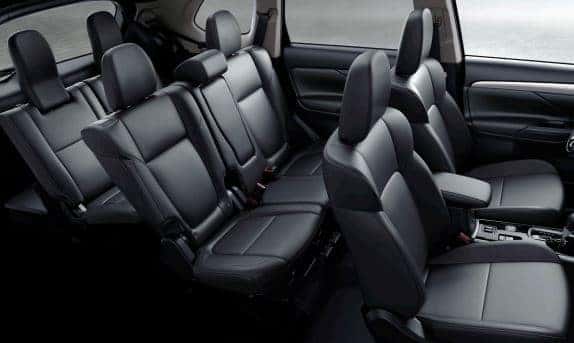 Aside from seating 7 passengers, the Outlander boasts a nice amount of cargo space. The second and third rows fold down to allow you to carry whatever you're likely to need to haul.
As for economy, you won't find many SUVs that provide 30/25 Hwy/City MPG with the 2.4L engine and 27/20 with the 3.0L.
Add to that the already impressive stack of standard features for the Outlander and you've got yourself a vehicle that's more than comfortable – it's luxurious! Throw in a few items like Forward Collision Mitigation with Pedestrian Detection System, Lane Departure Warning, Blind Spot Warning and Rear Cross Traffic Alert, and Adaptive Cruise Control and driving becomes a lot safer.
So it's no surprise that not only did Kelley Blue Book single out the Outlander for a prestigious award, it's also one of our most popular vehicles.
And as a bonus – a major bonus – if you don't feel you need that 3rd row of seats, or if you just want to strive to be greener, there's also a hybrid version: the Outlander PHEV 4D SUV AWC SEL. A world-class warranty, amazing 74 combined energy consumption and the hefty rebates afforded when you purchase an EV… makes you wonder why you haven't already taken one for a test drive, doesn't it? We are offering virtual appointments on all of our Mitsubishi models. Schedule your virtual appointment now.

Of course, there are several other Outlander models to choose from, including the Outlander Sport. So if you'd like a better understanding of the differences between the two (spoiler alert: it basically boils down to size and sportiness), here's a post comparing the two.
The 2020 Outlander underwent a number of improvements in comfort, utility, safety and appearance. Mitsubishi continues to provide more of those as standard features than its closest competitors, which no doubt was part of the reason for receiving the KB Award. Check out my post in November to see details of what's new on our Outlander.
You can check out some of our other Outlander models on these pages:
Mitsubishi Outlander 4D SUV AWC SE
Mitsubishi Outlander 4D SUV AWC ES
Mitsubishi Outlander 4D SUV AWC SP
Mitsubishi Outlander 4D SUV AWC GT
Mitsubishi Outlander 4D SUV AWC LE
Mitsubishi Outlander 4D SUV AWC SEL
Mitsubishi Outlander 4D SUV AWC SEL Touring
Mitsubishi Outlander 4D SUV FWD ES
Mitsubishi Outlander 4D SUV FWD SE
Mitsubishi Outlander 4D SUV FWD LE