2019 Mitsubishi Outlander Exterior Changes & Enhancements
2018 Outlander vs. 2019 Outlander – What's New
The 2019 Mitsubishi Outlander has made extensive changes to the exterior, interior and performance compared to the 2018 Mitsubishi Outlander. When buying a car, do you ever wonder what changed that year? We ask this question all the time. To help you, we are creating a three blog post series showcasing the exterior, interior, and performance changes in 2019 Outlander vs. 2018 Outlander.
We know it's tough to make decisions and hopefully with this series of blog posts, we will help you. You can always reach out to our information specialist with any Mitsubishi questions at 800-610-9745.
Now, sit back and relax while I go over the 2019 Outlander exterior changes detail-by-detail, item-by-item, it's impressive. The 2019 Outlander is one rocking SUV/CUV that not only competes with the Rav 4, Nissan Rogue and Subaru Forester, the Outlander is a superior vehicle, and I've got all the data to show you why.
Browse Mitsubishi Outlander Models Now
2019 Mitsubishi Outlander Changes in Color Options
The only significant color change in the 2019 Mitsubishi Outlander is the changing of the name color of White. 2018 Outlander came in Diamond White W13, and this name has changed in 2019 to Pearl White – W13.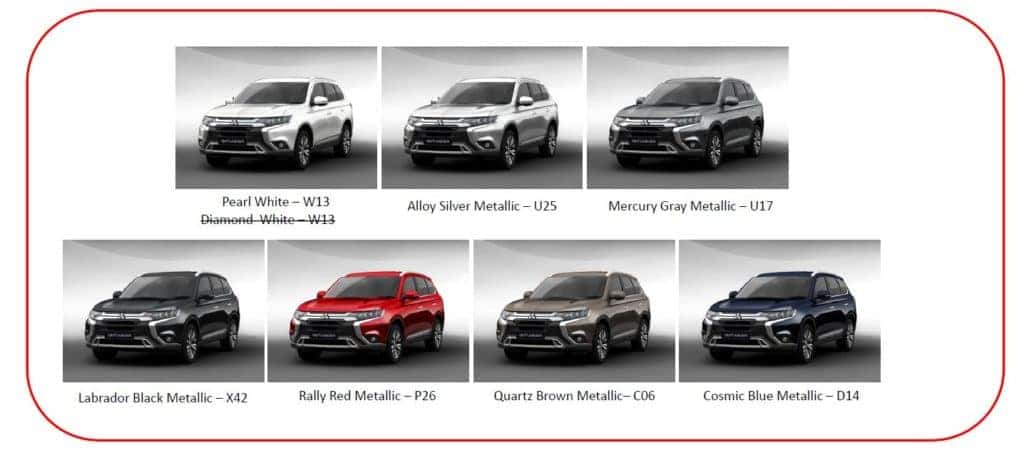 All the rest of the Outlander Colors have carried over from the 2018 Outlander Model:
Pearl White – W13
Alloy Silver Metallic – U25
Mercury Gray Metallic – U17
Labrador BLack Metallic – X42
Rally Red Metallic – P26
Quartz Brown Metallic – C06
Cosmic Blue Metallic – D14
Exterior Front 2019 Outlander Changes
Here is a quick overview of the front exterior changes on the 2019 Mitsubishi Outlander. As you can see, there is not just one change to mention; it's an entirely new look for this Mitsubishi SUV/Crossover.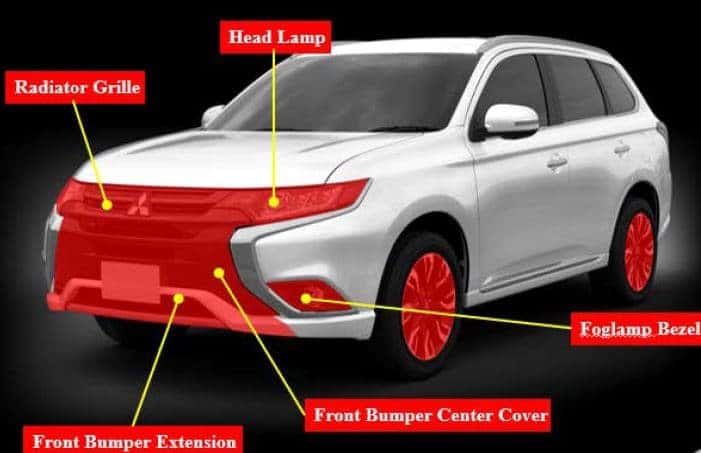 Newly Designed Headlights & Fog Lamp Bezel
Since seeing the road is an essential part of driving, let's start with the all-new 2019 Outlander redesigned headlamp.
LED High & Low-Beam Headlights
LED Fog Lamps
Browse Mitsubishi Outlander Models Now
*Comparison is with the Outlander GT
2019 has a new more technical look with key-line connected through the grille with new inner lense extension. I'm not 100% sure if this is a better light because of this internal lense extension or if it's just for looks. The one takeaway is the 2018 Outlander only had an LED low-beam, and the 2019 Outlander has both LED for high-beam and low-beam.
Newly Designed Grille
Grilles are one of those signature things that every vehicle has, and many people can determine the year and model of a car just by looking at a grille. 2019 is one of those years for the Outlander. When comparing the grilles of a 2018 outlander to 2019, it's pretty apparent the grille has had a complete redesign.
The 2019 Mitsubishi Outlander grille has a lot more style and detail than the 2018 Outlander. With the grille having this sponge looking metal grade detail, giving the entire grille appears a more sophisticated look. Additionally, the material provides the grille with more support and protection.
Browse Mitsubishi Outlander Models Now
Extensive Front Bumper & Skid Guard Protection
The 2019 Mitsubishi Outlander has a significant addition to the front bumper. It almost looks like a grille guard. Mitsubishi calls it a skid guard and lower bumper extension. It has chrome looking accents and elongates the look of the bumper. This skid guard will better protect the hood, grille, and cooling system.
The new look showcases the vertical look of the bumper and gives added protection to the front bumper cover which has also had an upgrade.
2019 Outlander Front Bumper

Whereas, the 2018 Outlander front bumper has more of an everyday look and feel.
2018 Outlander Front Bumper

Exterior Rear 2019 Outlander Changes
While the 2019 Mitsubishi Outlander received a massive front exterior redesign, the exterior rear received some upgrades as well. The bumper received an extension and my favorite, new wheels!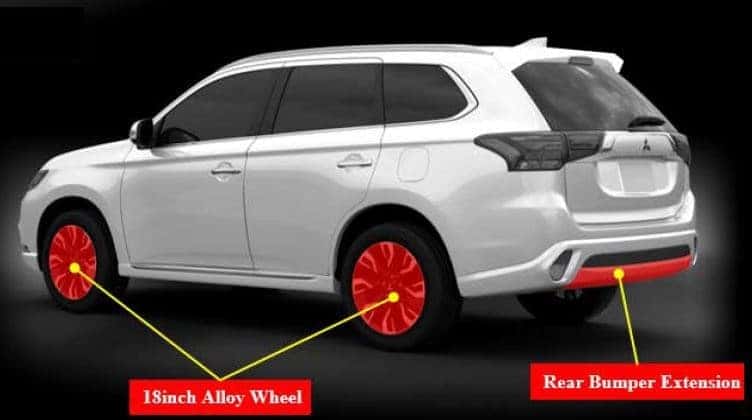 Rear Bumper Extension
Not only did the front bumper get an update on the 2019 Outlander, but the rear bumper did as well. Mitsubishi refers to this as a "bumper extension." This rear bumper upgrade will reduce the damage to the Outlander body and frame in a low-speed fender bender.
2019 Outlander Rear Bumper

Also, while the rear bumper extension might not look like a big deal on 2019, check out the 2018 Outlander and it's bumper, a sliver of silver protectant compared to 2019. While the 2018 rear bumper will protect the Outlander frame in a slow-speed crash, the 2019 Outlander rear bumper looks more sturdy.
2018 Outlander Rear Bumper

New Wheel Design on the 2019 Outlander
When I was growing up, I drove a 1969 Volkswagen bug with mag wheels. I was always getting compliments on those mag wheels. While the 2019 Mitsubishi Outlander doesn't have mag wheels, wheels are an essential part of a vehicles looks, and Mitsubishi is pulling out all the stops with these 18" Alloy wheels on the 2019 Outlander.
Browse Mitsubishi Outlander Models Now
Wheels are very subjective, you either like them, or you don't. The good news is you can always change out your wheels if you don't like the way the wheels look.
2019 Outlander Wheels

Vs. 2018 Outlander Wheels

This article was written comparing the 2018 Outlander GT with the 2019 Outlander GT. Different trim levels and packages may change some features. All 2019 Outlander trim levels come with 18" Alloy Wheels and newly designed front and rear bumpers.
With regards to headlamps and fog lamps, this article features the 2019 Outlander GT trim level.
Browse Mitsubishi Outlander Models Now
At Lawrence Mitsubishi, we are here to help you with all of your decision-making needs. Our information specialists are ready to answer any of your questions, give us a call at 800-610-9745.
Do you have a question or idea you would like to be featured in a blog post? Fill out this simple form.
Are you a car enthusiast or novice and want to feature your car story on our blog? Fill out this form to be featured on our blog.